Why Do MDs Get More Research Dollars Than Doctors of Osteopathy?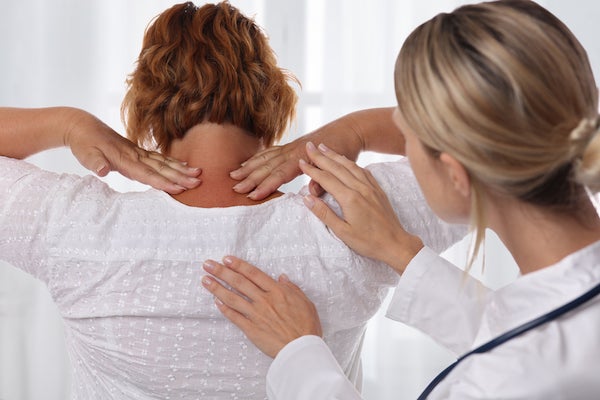 Most people probably don't realize that there are two primary kinds of doctors in America. They have much the same training and they're both fully licensed to practice medicine and conduct research in a wide spectrum of areas. But one group gets significantly more research funding from the National Institutes of Health (NIH) than the other in proportion to their numbers—and the reason, we argue, is bias.
Medical doctors (MDs) tend to be specialists and are the larger group of practicing clinicians in the United States, while doctors of osteopathic medicine (DOs) are usually primary care clinicians. DOs currently make up 11 percent of the active clinician workforce, and their numbers are projected to grow to 20 percent by 2030. Currently 34 of America's 185 medical schools, or 18 percent, are DO schools and 26 percent of students entering medical school are osteopathic medical students.
There have been numerous studies on bias in grant funding that correlates with under-represented groups by gender, ethnicity and investigator seniority. However, there is another even larger type of bias that influences who receives research funding: whether grant applicants have MD or DO professional credentials. A check of the National Institutes of Health RePORT grant funding database reveals only 78 active grants to osteopathic organizations, out of a total of 83,166 active grants, or 0.1 percent. There are only three DOs and one DO/PhD student as principle investigators for these 78.
There may be several factors involved in this discrepancy, including the research environment, investigator training and previous research experience/performance, varying importance of research as a scholarly activity at different schools and perhaps the desire to treat patients instead of conducting research. We focused on two factors: 1) the relative representation of DOs and MDs as members of NIH grant review groups called study sections, and 2) the number of grant applications submitted by DOs, MDs and their respective medical schools.
To determine if representation during the review of grant applications could be a factor, we analyzed the professional credentials of reviewers on NIH review study sections. Our approach was to download and analyze the credentials of every member of all standing and special emphasis grant review panels run by the NIH. We found that the 173 standing study sections contained 3,233 members, of which 493 had MD (or MD/other) credentials, 2,223 had PhD degrees, 369 had MD/PhDs, and 62 had other degrees (doctor of veterinary medicine, masters in science, doctor of dental surgery, etc.) while those with DO credentials: zero!
There was one PhD representative from an osteopathic medical school. DOs fared slightly better across the 253 special emphasis panels, with 32 DOs out of 18,702 members of which 4,792 were MDs. The fraction of DOs to MDs was 32/4,792, equaling 0.6 percent or about one sixteenth of what would be expected from proportional representation. In another extreme example, the prestigious NIH Director's Pioneer and New Innovator Awards, which have impaneled some 70 reviewers annually since 2004, has never had a DO or a member of an osteopathic school as a member; and no DO or osteopathic medical school faculty member has ever received an award.
To determine if participation in the grant system is a factor influencing the number of awards to DOs and MDs, it was necessary to know the number of grant applications and the award rate for those applications. This is not available on the NIH website, so we made a Freedom of Information Act (FOIA) request. We learned several things from what the agency supplied:
The fraction of DOs submitting applications is less than 0.4 percent of the clinicians, which is significantly smaller than the fraction of practicing DOs (11 percent, with most of the applications coming from DOs who are members of allopathic [MD] medical schools); Osteopathic schools submit only 0.4 percent of the applications, while 99.6 percent of applications come from allopathic schools; and The award rate for allopathic medical schools is 21 percent higher than those for osteopathic schools.
Overall, this very large discrepancy in research funding access underutilizes the research potential of a large and growing portion of the clinician workforce; puts a large and growing portion of clinical trainees at a disadvantage for the best residencies because they lack access to research opportunities at DO schools; discourages DOs and scientists at DO schools from applying for NIH research dollars because of both a real and a perceived lack of competitiveness for research funding; denies equal access to research dollars for DO schools, especially for certain research areas (primary care research, osteopathic manipulative therapy, alternatives to opioid pain medications), because DO schools lack representation during grant review; biases medical school ranking (US News, etc.) computations which includes a research funding factor, that in turn affects applicants selection of schools they desire to attend; and perpetuates perceived superiority of MDs relative to DOs, especially in medical specialties.
The question is not how or why such an extreme bias in grant participation and review came about, but what can be done about it. This suggests a need for new policies for study section makeup and grant award criteria. Proactive programs to expand participation by DOs and osteopathic medical schools should be created, as has worked well for other underrepresented groups.
Without these, it is unlikely that anything approaching proportional participation and funding rates will be achieved, and the result will be to sustain the extreme access disparity to research funding for the fastest growing part of the clinician workforce; it it, moreover, a portion of the workforce that tends to be more diverse and serves rural, underserved, socioeconomically challenged areas. Corrections are needed now, not least because in 2020 the single pathway for graduate medical education training—residencies—will complete the merger for osteopathic and allopathic residency training, elevating the need for research in osteopathic medical schools so all graduates can compete on a level playing ground.
Read More