Panthers beat Crossville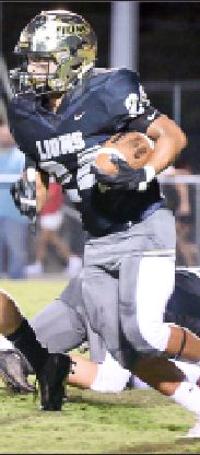 CROSSVILLE — Collinsville dominated the Crossville Lions in a 47-14 victory Aug. 31, ending the Lions' eight-game winning streak in the rivalry.
The Panthers (2-0) scored in every way possible in the first quarter.
Running back Jarrod Barkley took the ball 73 yards to put his team on the board. Jason Perez hit the extra point, and the Panthers led 7-0 at the 8:01 mark.
On the ensuing possession, Myles Underwood tackled a Lion for a safety, and at the 7:39 mark in the first his team had a 9-0 advantage.
Collinsville quarterback Kaleb Jones found receivers on a pair of bombs that went for touchdowns in the first quarter.
Jones hit receiver Michael Tucker from 58 yards out, and he connected with Mason McKinney on a 59-yard TD. Perez's PATs were good, and the Panthers led 23-0 with 3:35 left in the first.
Perez tacked on a 42-yard field goal at the 1:47 point in the opening period, giving Collinsville a 26-0 advantage.
McKinney caught his second TD pass from Jones for 20 yards at the 10:12 point in the second, and Perez's kick made it 33-0. Tucker caught Jones' fourth TD pass with 1:26 left before the break.
The Panthers led 40-0 at the half.
McKinney opened the third quarter with a 90-yard kickoff return, and Perez's kick increased Collinsville's margin to 47-0.
Crossville got on the scoreboard in the fourth quarter.
Hunter Haston found receiver Garrett Masters for the 41-yard TD pass, and Eli Borja's PAT made it 41-7 with 11:39 remaining in the game.
Harley Hicks scored the final TD for Crossville on a 16-yard run, and Borja's kick trimmed it to 47-14 at the 3:26 mark.
Haston was 4-of-8 passing for 52 yards. He rushed six times for 34 yards.
Read More