24 Hilarious Gag Gifts That Are Actually Useful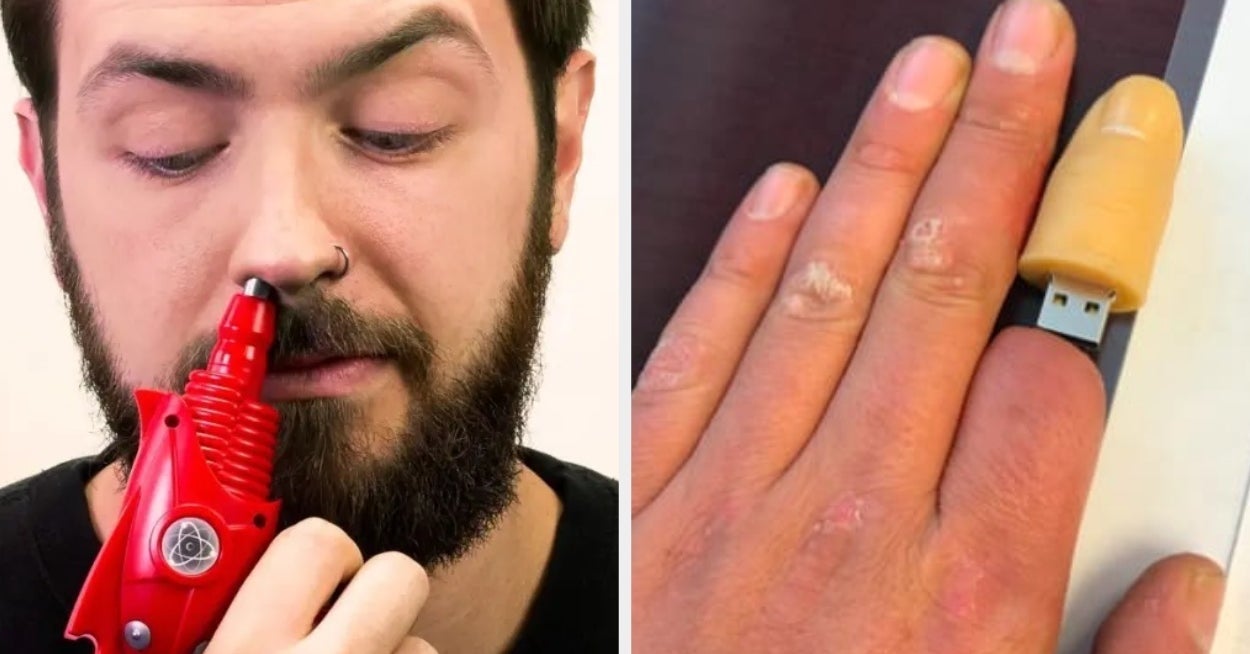 We hope you love the products we recommend! Just so you know, BuzzFeed may collect a share of sales or other compensation from the links on this page. Oh, and FYI — prices are accurate and items in stock as of time of publication.
1. A thumb drive for a quite literal and practical option that's equally hysterical. amazon.com
It holds 32GB of data!
Promising review: "This was an awesome gag gift and the humor of this was very well received! To top it all off, it has more GB than most of my 'normal' thumb drives." —Elizabeth Love
Get it from Amazon for $12.51.
2. A Sigmund Freud sticky notes booklet to give them a good chuckle every time they need to remember something important. Amazon
You can also buy big foot, dino, feminotes, mustaches, and Shakespeare themed booklets for some more ~noteworthy~ laughs.
Promising review: "This is a great notepad that provides a lot of office humor. When I have to leave the psychiatrists I work with notes, I always leave them on my Freudian slips and they get a big kick out of it!" —David Julian
Get it from Amazon for $7.95.
3. Mistaken lyrics coasters because they always so confidently scream the lyrics to their favorite song, but most of the time, they're just plain wrong. *SWEET DREAMS ARE MADE OF CHEESE!* Amazon
Just to be clear, yes, those coasters do say "hit me with your pet shark" and "she's a good girl, loves her mama, loves cheez-its, and America too." To be honest, I straight up lol'd.
Promising review: "This is a great gag gift for someone who is always messing up lyrics, like my mother. I bought these for her and she enjoyed them enormously." —CleverTiger
Get a pack of six from Amazon for $25. The coasters shown are from the greatest hits set, but check out the other hilarious sets you can get on Amazon.
4. ABC gum magnets that'll have them thinking you actually gifted them wads of chewed gum. How dare they think so little of you. amazon.com, amazon.com
Promising review: "I purchased these magnets for my boyfriend, as he is currently renovating his entire kitchen. I thought these magnets would be a funny and useful gag gift. He absolutely freaked out, but once he realized what they were, he laughed hysterically and couldn't believe how realistic they looked." —Melissy B.
Get a pack of four from Amazon for $10.76.
5. An atomic nose hair trimmer to *blast* away those unwanted nose and ear hairs. Firebox
In order to destroy that hair, this trimmer needs AAA batteries (get them from Amazon for $10.47).
Promising review: "I gave this nose hair trimmer to my brother-in-law who was skeptical at first, but once he shoved it up his nostril and gave it a whirl, he was ecstatic. He said it's totally painless, and it cleared out his nose hairs so well, that he was accidentally shooting boogers out of his nose for the rest of the night. So maybe that's a (hilarious) downside. But that's the only one." —Val Casey
Get it from Amazon for $12.87 or Firebox for $16.67.
6. Crafting with Cat Hair, a book so they can learn how to make crafts using their cat's hair. Weird? Probably. Funny? Definitely. Amazon, amazon.com
Learn how to make finger puppets, coin purses, mittens, and so much more! The best part? Your cat's hair is free, so there shouldn't be too many extra costs to keep up with your new ~furtastic~ hobby.
Promising review: "I bought this as a kind-of gag-gift for my sister but knew she would love it and actually use it. She has a long haired cat that sheds all over the place and this book provides great ideas to channel that annoying fur into creative projects. The book has multiple projects and also explains how to prepare the hair for felting. I bought a felting set to go with the book and it made the perfect gift combination." —SuperSaiyaGirl
Get it from Amazon for $12.59, Barnes & Noble for $13.86 (originally $14.95) or through a local bookseller on IndieBound.
7. A Mr. or Mrs. food plate that will make playing with their food at the dinner table acceptable. Maybe it will even encourage picky eaters to eat some darn veggies. Amazon
These *moody* plates are dishwasher safe.
Promising review: "This makes a great gift for the grandchildren. The plates make meal time fun and are very good quality. I even wish I had one for myself sometimes." —Robert Betsko
Get it from Amazon for $13+.
8. Alcohol soap so they can finally douse themselves in their favorite beverage like they've always dreamed of. And no, it will not get them drunk. Firebox
This soap is phthalate-free and cruelty-free. It is made with crushed oats, apricot seeds, rosemary leaf extract, and REAL ALCOHOL. Btw, this soap is not for consumption, so they should NOT try to eat it!
Promising review: "I got this soap for my boyfriend, as he's a whiskey guy, and I thought he'd get a kick out of showering 'with' whiskey. He loves it! The scent is strong but not at all overwhelming. He likes how clean his skin feels after using this soap, and we both appreciated the classy packaging. It's large bar of soap, so you get a lot of bang for your buck! It will definitely last awhile." —Sara Herbst
Get it from Amazon for $9.99 or Firebox for $10.29 (available in beer, wine, and whiskey scents).
9. A hair mask, hand lotion or lip balm to trick them into thinking you gifted them food. They'll open it up and be like "OMG I love my... bottle of mayo?" But really, it's an amazing hair mask. amazon.com, instagram.com
This hair mask is not actually made of mayo, don't worry! It is made with shea butter and nutritent rich oils. However, the banana hand lotion and lip balm is made with real banana extract. YUM!
Promising review (for the hair mask): "My hair was really dry and tangled at the ends, and no amount of conditioner would allow me to comb through my tangles. This hair mask fixed my split ends and smoothed out my hair, finally allowing me to run a brush through my hair again." —Sarah
Promising review (for the hand lotion): "What a cute little product! It looks just like a little banana, only it's hand lotion. It smells great, just like banana candy! My favorite part is that the hand lotion leaves my hands feeling moisturized, and NOT greasy like so many other hand lotions." —Shylee
Get the mayo hair mask for $16, banana hand lotion for $16, and banana lip balm for $10, all from Amazon.
11. An ice cream lock, because they take their ice cream super seriously. I scream, you scream, they scream, if you touch their ice cream. Amazon, amazon.com
Promising review: "This was the best birthday present for my phish food loving sister. It is a totally functional gag gift. She LOVES it and says she will be bringing it to college so her roommate can't have any of her Ben and Jerry's." —Emily
Get it from Amazon for $35.99.
Psst! Phish food is my favorite ice cream flavor of all time. If you haven't tried it YOU MUST. Get it from Amazon for $3.33.
12. An umbrella that'll rain men and keep them dry (or maybe not 😉). amazon.com
The bubble dome design (and the strong men) will protect them from wind or rain, measures to 30" wide x 31.5" tall and has a semi-automatic gliding design to open and close with ease.
Promising review: "I gave this as a gift for a white elephant gift exchange. It was a huge hit and stolen a few times. It is such a fun item but useful item." —Starlight220
Get it from Amazon for $24.95.
13. A motion sensor toilet night light so they can have ragers in their bathroom. Oh, and to help them from falling on their ass when they gotta' go in the middle of the night. amazon.com, amazon.com
This light is motion sensor activated and changes between eight colors. If you have a color that you prefer, just press the button located on the device to freeze it on that color! It also needs triple AAA batteries (get them from Amazon for $10.47) to get ~glowing~.
Promising review: "I bought this as a gag gift for my husband's birthday. He gets up several times a night to go to the bathroom (he's usually half asleep), so I thought this light would be helpful/funny! The best part is that it works great and he loves it. I might even get another one for the guest bathroom." —Mary
Get it from Amazon for $18.95.
14. A pizza night light that'll give any room in their house that subtle, sexy, pizza glow. *mmmm* amazon.com
Promising review: "I originally bought these as gag gifts, but they're honestly amazing. Don't question this purchase, it's a greasy slice of pizza on a paper plate illuminating your house in the most beautiful way. Amazing." —Jenna
Get it from Amazon for $8.
15. A wine condom to protect their wine from getting old. Don't be silly, wrap your... wine bottle. Amazon
Promising review: "I bought these as a gag gift, but they work really well. They fit snug on the top of the bottle so if you accidentally knock a bottle over, it won't spill!" —Desert Creatures
Get a pack of six on Amazon for $13.97.
16. Subtle Butt disposable gas neutralizers, because they ~cut the cheese~ way too much. Adhering one of these activated carbon filters to their undies will save their friends from a very smelly car ride home. Amazon
Promising review: "My boyfriend lays the stinkiest farts so I got this for him as a gag gift. He tried it out on a car trip and I didn't smell one single fart. It was amazing and hilarious! This little gag gift actually works. Now I don't have to be trapped by his mustard gas on long car rides." —Sarah Scalia
Get it from Amazon for $12.95.
17. A pair of socks to embrace their inner Tina. *butts butts butts* Urban Outfitters
Promising review: "I'm a huge Tina Belcher and Bob's Burgers fan. I originally bought these because I thought that they were funny, but overall they are amazing socks. They're very well made, the perfect size, comfy as hell, and nicely sewn. I love to wear them around the house and most importantly, to sleep in. They shipped super fast and overall, I am so happy with my purchase." —Amazon Customer
Get it from Urban Outfitters for $8 or Amazon for $13.99 (one size fits most).
18. A golf mug to give them a warm-up before they hit the golf course. UncommonGoods, UncommonGood
They can also use the club as a pen to keep score of their game! Double wammy.
Promising review: "My boyfriend loved this gift. He is a big golfer and he loves to play with this at his desk. It is a high quality mug and works great!" —Alex VanBeusecum
Get it from Amazon for $9.99 or UncommonGoods for $12.
19. A beer mitt that will keep their beer cool but their hand warm. *fist pumps* Amazon
Promising review: "Hey, if you like your beer, then you have to get this koozie! It really does keeps your beer cold with out freezing your hand. I have owned other koozies but this one keeps your beer colder longer! I take it tailgating, and when it doesn't have a beer in it, they seem to magically appear! The only thing missing is the left hand so I could double fist it!" —Corrice Colin Williams II
Get it from Amazon for $16.99.
20. A tea bagger to add a little extra flavor to their favorite tea. Amazon
Really, it's just a hilarious tea infuser made with food-grade silicone.
Get it from Amazon for $14.95.
21. A pirate wine opener that will become their new best mate. Amazon
Promising review: "This is a well-crafted bottle opener and is extremely sturdy. It makes for a great gag gift for someone that would like a little more pirate in their lives (or even if they don't, and just love to drink wine). Plus, it gives you an excuse to talk like a pirate. Yar!" —Davey B
Get it from Amazon for $15.
22. A lotion flask so they can sneakily carry alcohol with them anywhere they go. Amazon
Promising review: "These were given to me as a gift and I absolutely love them. I have used them on a few occasions. They don't leak, they can be put in a bag, purse, or back pocket. The alcohol did not taste like plastic and the fit nicely into a cooler. They don't take up nearly as much room as bottle or can would!" —Shelly
Get a pack of three from Amazon for $9.95.
23. Cable critters to protect their charging wire from fraying, while a fish hilariously takes a bite out of their phone. Urban Outfitters
Get the original Cable Bite from Urban Outfitters for $6 each (available in 15 animals) or a similar version from Amazon for $5.99 each (available in 21 animals).
24. Shittens that'll help them through any *shitty* situation. Accidents happen, man. Amazon
Promising review: "I bought as a gag gift for my sister for her birthday and she loved them. It was great timing too, because three days later one of our dogs pooped all over their hind legs. What do you know, the shittens were the perfect thing to clean up the dog!" —DikT989
Get it from Amazon for $19.99.
You, cracking yourself up before you've even given these gifts: Darren Star Productions / Jax Media
The reviews in this post have been edited for length and clarity.
Read More