33 Perfect Gifts For Your Best Friend At Work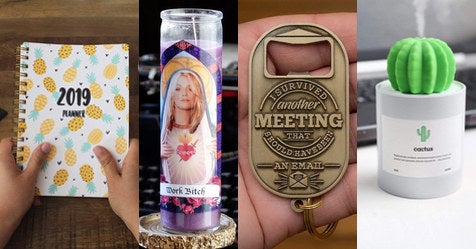 We hope you love the products we recommend! Just so you know, BuzzFeed may collect a share of sales or other compensation from the links on this page. Oh, and FYI — prices are accurate and items in stock as of time of publication.
1. A custom city ring if they're far from family and are feeling a bit homesick. Caitlyn Minimalist / Etsy
These beautiful rings are handmade.
Get it from Caitlyn Minimalist on Etsy for $25.80 (available in various sizes and cities).
2. Or a Homesick candle to remind them of the scent of their hometown. Amazon
Promising review: "I got this candle as a gift for my friend who recently moved from Northern California to Colorado. He's been homesick and I thought this candle would be the perfect gift. It came in a cute black box. The candle is a nice size and does not have a lid. The candle smells really good. He LOVED it and even started to tear up after smelling it. He said he had no idea how it worked, but it smelled exactly like home. It is packaged very nicely, smells amazing and is a thoughtful gift." —Pen Name
Get it from Amazon for $29.95 (available in all 50 states).
3. A Dundie award so they know just how terrific they are at their job. Amazon
These awards are customizable! You can engrave them with whatever title you'd like.
Get it from Amazon for $29.99.
4. A Bob Ross heat-changing mug to make their morning cup of coffee even more enjoyable. Urban Outfitters
Just pour in a hot beverage to watch this mug turn into a beautiful Bob Ross landscape.
Promising review: "I love this mug. It's fun, creative, and brings joy to my morning coffee. I have heard that the paint chips when you wash it, but there are directions in the box that explain how to avoid that from happening. All you have to do is hand wash gently. Overall it's a great gift idea." —kaylagerret
Get it from Urban Outfitters for $14.
amazon.com, Amazon
This holder will come with a few paperclips to get your collection started.
Get it from Amazon for $3.43.
6. A set of office folders that'll make them smile and *maybe* help them get their ~crap~ done on time. Amazon
These folders come in a set of six.
Get them from Amazon for $11.77+ (available in four styles).
Sur La Table 8. A 2019 planner because you want them to begin the new year on the right (and totally organized) foot. Amazon
This planner is both monthly and weekly. It includes holidays, a contact sheet, and a habit tracker.
Promising review: "This planner starts from Sept 2018 and ends in Dec 2019. It's great for transitioning from the last quarter of the year to the following calendar year. It's perfect for my purpose and doesn't have a lot of art in the way. The layout is simple and clean. It's very functional." —SunnyHi
Get it from Amazon for $14.99 (available in seven styles).
9. An award ribbon they can proudly display on their desk to showcase the fact that they managed to be somewhat of an adult for at least part of a day. Adulting For The Win 10. A pack of Sriracha hot sauce so their lunch will always be packing some major heat. Amazon
Get a pack of 50 from Amazon for $11.99+ (also available as a pack of 200).
11. A desk cactus humidifier to prevent stuffy air, chapped lips, and the spread of germs. They'll definitely thank you for this one. Amazon
This mini cactus is USB-powered and will run for four hours before shutting off.
Promising review: "This little thing did wonders for my skin in my office. I'm right next to a window so I often have to run my space heater, which dries the daylights out of my skin. This thing is easy to set up, well worth the money, and super cute. My eyes and nose stay moisturized and my skin looks better than it ever does in the winter. It's made for small spaces, so make sure you're within a foot or two of the mist so you can benefit fully." —Amazon Customer
Get it from Amazon for $5.89+ (available in seven styles).
12. A mug warmer so they don't have to get up and down from their desk 100 times a day to combat lukewarm coffee. Amazon
Promising review: "I have a bad habit of typing more than drinking in the morning and found myself sipping ice cold coffee as I sifted through the day's business. Well, no more! My warmer keeps my coffee at just the right temperature. It especially keeps the last half or last third warm enough to drink, so no getting up to reheat. The orange light is really noticeable when on, so no forgetting about turning it off. This was a little, simple purchase, but a joyful —JML
Get it from Amazon for $10.
14. A sloth life mouse pad to accurately describe both of your lifestyles and definitely how the two of you bonded in the first place. 15. A corgi butt pillow they can use during their morning commute or as extra cushion for their desk chair. Amazon
Get it from Amazon for $6.88.
16. A water art board to promote relaxation with zero mess! All the brush needs is water. Their image will disappear when the board dries. Amazon
Promising review: "All you need is a cup of water and you're good to go. The size is small enough to be portable and the board dries out fast enough to keep doing new designs. It's good for anxiety and passing time." —MamaGhostBooks
Get it from Amazon for $14.95.
17. A pack of affirmation cards they'll want to read every morning for uplifting and positive messages without being overly sappy and cheesy. Amazon
Promising review: "Seriously the best thing ever. I love these cards. Each one is unique and has its own hilarious, charming, and heart-warming description. It's also ridiculously spot on. Call it what you will but every time I or a friend draw a card, it is directly linked to something I am going through currently. It's AWESOME! It's always extremely uplifting, even on the toughest of days. I would highly recommend this." —Preston Parsons
Get them from Amazon for $12.71 or Barnes & Noble for $11.95.
18. A Michael Scott poster to hang in their cubicle so they are constantly reminded that they are Beyoncé, always. 19. A wireless Bluetooth karaoke microphone so they can really get the holiday party started. amazon.com
Promising review: "Oh my gosh, I love this! It connects via Bluetooth so you can connect it to your phone, and then the music comes out of the microphone's speaker. It has a volume control for your voice and for the music, plus it has an echo option. I keep the echo very low usually. It comes with a really nice case, a USB charging cable, an audio cable, and two cloth covers to keep people from spitting on your microphone. This would be an awesome gift for anybody and super fun for parties." —Ferretocious
Get it from Amazon for $30.99+ (available in eight colors).
Amazon
Promising review: "This planter is super cute! It's the perfect size for work on my desk and it looks great with a small cactus! The bottom has a plug for drainage, too." —Jennifer Merz
Get them from Amazon: the girl or the Schnauzer for $5.99+ (available in 24 styles)
21. And if they're a fan of succulents but have a serious brown thumb, these faux ones will do the job. The Apollo Box
Get them from The Apollo Box for $18.98 (available in 15 styles).
22. A picture frame so you can cement your friendship with an adorable photo of the two of you. Amazon
Get it from Amazon for $9.99+ (available in four photo sizes).
23. A human organ lunchbox to forever protect their precious lunch in the dreaded free-for-all office fridge. Amazon
Get it from Amazon for $13.99+ (available in three styles).
24. And on that lunch-stealing note...this book of passive-aggressive notes is sure to get them to chuckle. Amazon
Promising review: "I bought this coffee table book as a gift for one of my cousins, but I ended up reading it about five times before I gave it to her. As someone who has shared a break room with some very anal coworkers, I couldn't help but laugh at all of these amazing photos. If you want to be reminded of how ridiculous people can be, buy this book. It's hilarious." —Evan Purcell
Get it from Amazon for $14.39, Barnes & Noble for $15.43, Indiebound, find a copy at your local library.
25. An avocado heating pad for the days when their stomach just can't seem to agree with them. Forever 21
Get it from Forever 21 for $22.90.
26. A popcorn popper that'll make theater-level popcorn in just four minutes AND is super easy to store in a desk drawer. Amazon
This popper is made of durable silicone and collapses down for easy storage.
Promising review: "Why did I wait so long to buy a silicone popcorn popper? Could it get any easier to make popcorn? I put just a couple of drops of oil in the bottom of the bowl, add enough popcorn kernels to reach the the smallest circle in the bottom of the bowl, toss a little salt on the kernels, stir it so the kernels are coated with oil, and place it in the microwave. After around two minutes of popping, I have a nice, tasty bowl of popcorn. The size is just enough for a single serving. It's a good, healthy snack without a lot of effort. The bowl is good quality and the handles stay cool for handling the hot bowl when removing it from the microwave. It also washes easily." —HighlandAngel
Get it from Amazon for $13.97+ (available in seven colors).
28. A bottle opener keychain they'll absolutely love because you've both endured the pain of *cough, cough* unnecessary meetings. Amazon
Get it from Amazon for $14.99.
29. A name plate to make them feel like a really big deal because, well, they are! Amazon
Get it from Amazon for $14.85 (available in four colors).
30. A set of cable clips so they can finally make some sense out of their desk wire jungle. Amazon
Get a pack of 24 from Amazon for $6.99.
31. A zen garden to help them rake away stress from that last big meeting that ended up being way more tense than anyone expected. Amazon
Candle is not included.
Get it from Amazon for $14.42.
32. A Britney Spears candle that'll remind them to "work, bitch" when they feel like procrastinating. The Eternal Flame / Etsy
This candle is eight inches tall and can burn for up to 100 hours.
Get it from The Eternal Flame on Etsy for $12.95 (available in three colors).
33. And finally, a notepad to sum up those days when they just seem to be drowning in work. But thankfully, you have each other and therefore can make it through any late-night, last-minute project. Amazon
This notepad is comprised of 50 sheets.
Get it from Amazon for $8.99.
Complimenting your work bestie like: Deedle-Dee Productions
The reviews for this post have been edited for length and/or clarity.
Read More